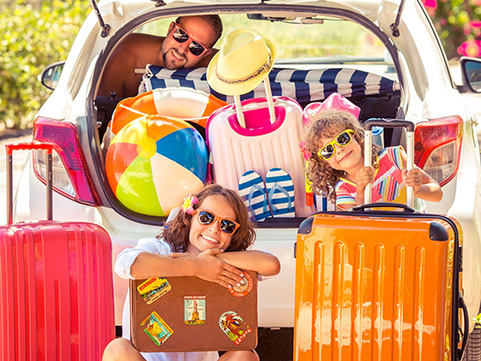 2021 Summer Vacation: What to Watch Out For in Pandemic Times
In the middle of school holidays and consequently the holiday period of most Portuguese families, we have to think that Covid doesn't (yet) take a vacation.
We all need to rest, and this year, once again, we will be able to do it safely, because "vacations are holidays".
Who to go on vacation with?
We must take vacations with those who belong to our household and maintain a physical distance from the other people that we will inevitably meet on vacation, namely those who will provide services to us in the places where we go on vacation.
Do not forget to keep your physical distance, wear a mask and clean your hands and surfaces.
Can we travel outside Portugal?
Yes, but we must carefully consider this decision and consult the information about possible restrictions in the country of origin, the country of "transition" and the country of destination.
holidays in Portugal
Holidays in Portugal this year is the most suitable. We help the Portuguese economy to grow, we support our companies and we feel protected.
For this, in addition to verifying the existence of the "Establishment Clean & Safe" seal, which distinguishes tourist activities that ensure all the control requirements for the new coronavirus (Cael holds this seal), this year we must take into account other measures :
Before leaving:
– Book the place of stay in advance
– Give preference to establishments with the "Clean & Safe" seal
– Find out about the access and safety conditions of the places you visit
When traveling:
– Remember that the use of a mask is mandatory
– Give preference to national destinations
On the beach:
– Minimum mandatory distance of 1.5m between people who are not part of the same group and 3m between parasols
– Wear a protective mask until reaching the beach, when using restaurants or toilets and whenever physical distance is not possible
– Prohibited sports activities with 2 or more people
– Avoid areas with high occupancy (see signs or consult the Info Praia app)
In the hotel:
– Respect physical distance and use a mask in common spaces
– It is mandatory to present the Digital Certificate or a negative test throughout the mainland
– Disinfect your hands regularly and follow the respiratory label
In restaurants:
– Requirement of digital certificate or negative test when accessing restaurants, for meals inside, in high or very high risk municipalities. This measure only applies on Fridays from 7 pm and on Saturdays, Sundays and holidays throughout the day.
– Limit on the number of People, depending on the municipality's risk level
In addition to the measures mentioned, it is prohibited to circulate on public roads from 23:00 in high and very high risk municipalities. Check out all the measures of the Release Plan here and have a safe and worry-free summer.
If you're going on a long trip, don't forget to prepare your car.
If you chose Portugal for your 2021 summer vacation, and the means of transport chosen to do so is your own vehicle, we still have some tips:
1. Overhaul
Don't hit the road without checking your car's general condition. Pay special attention to the tyres, brakes, lights, coolant, oil and windshield wipers. Also confirm that you have a reflective vest and a warning triangle.
2. Check documents
Make sure you have everything in order with your vehicle's documentation, such as: unique vehicle document, insurance certificate and periodic inspection form. Also check that you are carrying your driving license and that you have up-to-date insurance and inspection.
3. Prepare your route
Make a travel plan in advance, as well as the route to follow and which filling stations you will need. You can always use GPS from your car or your smartphone to help.
4. Pack the trunk
Try to take with you only what you will need to avoid overloading. Organize your luggage and distribute your weight in order to maintain the balance of the suspensions. Still maintain visibility to the rear and if possible take a first aid kit with you
5. Rest and hydrate yourself
Take a break from driving every 2 hours to rest your legs, arms and eyesight. Also always have water nearby to drink during the trip, this will help to keep you more comfortable.
As an option, you can rent your car at Cael and we will take care of all this preparation for you!