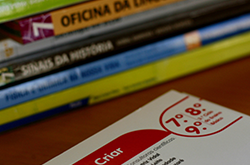 Free Manuals from 1st to 12th year
MEGA - Free School Manuals: how to register and use
To receive school textbooks free of charge, parents must register on the electronic platform MEGA - Free School Manuals
From the next academic year (2019-2020), all students who attend compulsory education, from the 1st to the 12th year, in public or private education with an association contract, will be entitled to free school textbooks . Thus, all parents and guardians who have children in these conditions must register on the MEGA platform. Registration is free.
Those who do not have access to the Internet should go to the school where their student is enrolled and deal with the whole process there.
How is the platform accessed?
The MEGA platform is accessible in two ways: through the website https://manuaisescolares.pt/ or through the Edu Rede Escolar app.
When and how do I register?
Registration on the MEGA platform has been active since July 9, in the parent's area, indicating the name, e-mail and password. After registration, the parent's account login page is displayed. Here, the credentials referred to in the registration must be entered: e-mail and password. In the next step, it is necessary to read and accept the terms of use of the platform, which state that the assigned manuals must be delivered to the school, in good condition, at the end of the academic year for which they are intended. This is followed by the validation of the Tax Identification Number (TIN), through login, in the Finance Portal, to ensure that it corresponds effectively to that of the guardian.
What should you do if you are already registered?
Registered guardians should consult their account on the MEGA platform. To do this, in the parent's area, they have to click on "Access" and then, on the login page, enter their e-mail and password. Those who do not remember the password, can request a new password to be sent, using the "Recover password" feature.
How are school textbooks assigned?
School textbooks are assigned through a voucher system. As of July, vouchers (one for each manual) are made available in the account of each parent, which must then be exchanged for school manuals at any participating stationery, if new manuals are assigned, or at the student's school, if used manuals are assigned.
What about activity books and worksheets?
The free program and reuse of school textbooks does not include activity books and worksheets, nor the other components of the so-called pedagogical packs.
What are the participating bookstores?
On the website https://manuaisescolares.pt/ you can find out which bookstores are adhering to the MEGA platform, including online bookstores. Just click on "Adherent Bookstores" at the top of the homepage, and search for a location or directly by the name of the bookstore. There is also the possibility to interact with a map.
How to know which manuals are adopted by schools?
The list of manuals chosen by schools is available on the MEGA platform.
https://manuaisescolares.pt/